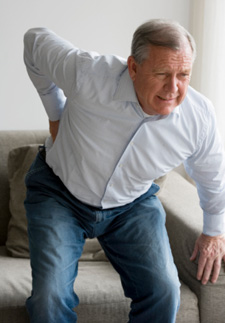 If you've been suffering from back pain that extends down the buttocks and into your lower legs, you may have sciatica. Sciatica is a common reason for visits to a chiropractor serving Geneva. This group of symptoms occurs due to irritation to the sciatic nerve.
Since the sciatic nerve begins in the lower back and travels down through the legs, individuals with irritation to the sciatic nerve typically experience pain over a large portion of the body.
Chiropractic Adjustments
Typically, patients with sciatica describe the pain as a "shooting" pain. Other possible symptoms can include numbness and weakness of the legs and feet, along with a "pins and needles" sensation. Although sciatica can be debilitating, it is often treatable with visits to a chiropractor; most patients do not require surgery for it.
Chiropractic adjustments can correct the misalignment of the spine and reduce pressure on the sciatic nerve. Massage therapy and physiotherapy may also be helpful.