Reviews for Goyke Health Center
What Our Patients Say

At Goyke Health Center we love when patients share with us their feedback and comments after chiropractic care. Please read our patient testimonials below to see what other people have achieved through their tailored treatment plans with us.
View our reviews or share your Goyke Health Center experience on our Google page.
For more information or to schedule an appointment contact us today.

You Will Not Be Disappointed
I'm from Atlanta Georgia. After playing two rounds of golf, being on the tarmac in Atlanta due to weather for two hours the night before, I flew into Chicago to play Cog Hill. I thought I had warmed up properly. I went to the first hole at Dubstread when all of a sudden my back and muscles seized up. I knew something was not right. I left the course without playing because it was that bad. I went to seek help immediately, I went to Athletico PT and then sought out on the internet to try and find a local sports release and chiropractic care physician. I made several calls to try and find someone no one would answer because it was on a Saturday afternoon. I was in so much pain and cannot move. Dr. Kevin called me late afternoon cause I had left a message and said he would break early plans and come and assist me on a "Sunday!" That does not happen! He cared enough for me to make a sacrifice and give up some of his time. He could have asked me to come in on Monday.
Dr. Kevin really cared about helping me. Between PT and his care I got back and played within 6 days at Geneva National and Cog Hill the following Saturday to which I shot a 79, 77. For those seeking help don't hesitate you will not be disappointed. You won't find a more caring doctor. His expertise and professional care allowed me to play no doubt about it. I would highly recommend Dr. Goyke. Thanks Kevin. Just shot a 73 the Golf Club of Georgia with 4 birdies. God bless your practice! Keep up the good work you provide.
Orlando

Very Happy
Goyke Health Center is a very professional and clean office. They have short wait times and a friendly staff. Dr. Goyke has helped both my husband and I with separate issues. I had tennis elbow and with laser treatment I was back on the court in a month. My husband goes weekly for his back issue. We are very happy with the treatments we have received.
Michelle J.

Nice Staff
The office is very inviting and relaxing and the staff has always been very nice. The girls are very accommodating in getting appointments scheduled that are convenient for me.
Rita S.
Pain Has Diminished
I became a patient of Dr Goyke's about a year ago. I have always had chronic problems with my neck, shoulders and back. My symptoms became worse due to extensive business travel. Since being a patient of Dr Goyke's my pain has diminished and my overall health much improved.
Vida K.
Feeling Much Better
Dr. Goyke, what a great experience. I have been coming here for the last three years. The staff is very friendly and the office is very nice & clean. I can still remember when I first started coming here. I had a lot of pain in my back and I couldn't walk easily and now I am very grateful to Dr. Goyke, my pain is 99 percent gone. I'm much better now!
Saleem K.

Highly Recommend
Goyke Health Center has been an intricate part in my fibromyalgia pain relief as well as he has greatly increased my overall flexibility…I highly recommend this health center to all my friends and family!
James B.

Online Reviews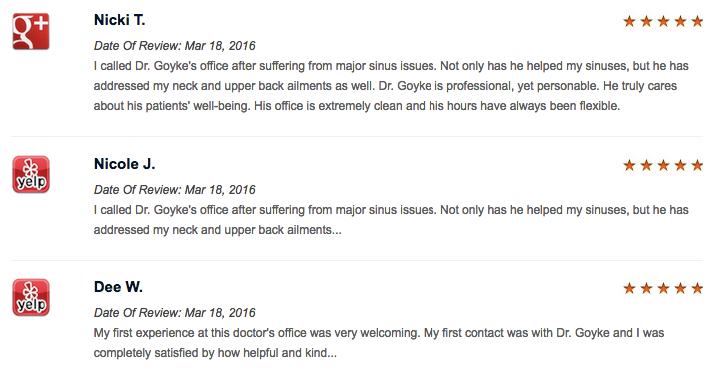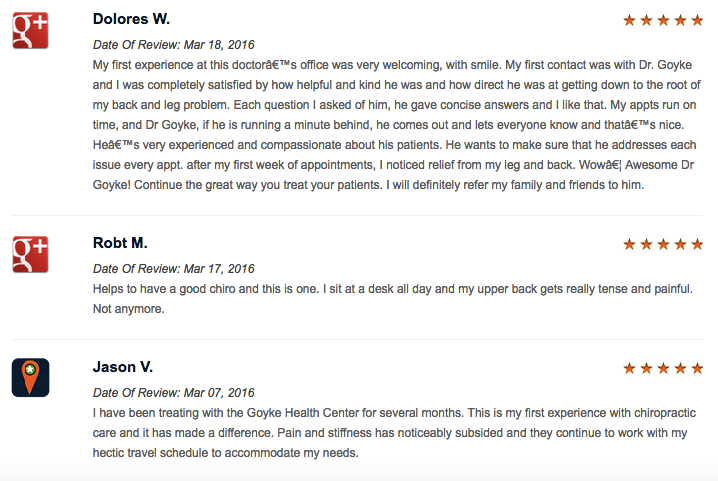 Goyke Health Center | (630) 715-1183