Physiotherapy in Geneva
When your joints and muscles aren't working properly, you'll start to feel pain and see signs of dysfunction in your body. Physiotherapy is another solution offered at Goyke Health Center that acts as a wonderfully effective complement to chiropractic care.
Helping You Feel Better Quickly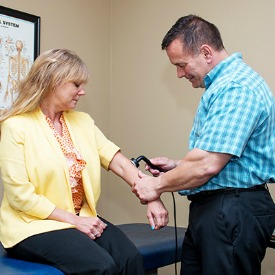 Physiotherapy can alleviate tightness and swelling. You'll feel nearly instantaneous effects, and it works hand in hand with your adjustments to help you feel better quickly and keep you well long term. The options we offer for physiotherapy include
Electric muscle stimulation
Interferential
Intersegmental traction
Ultrasound
We'll make our best recommendations to you depending on your condition. You may receive multiple physiotherapy solutions or none at all, tailoring our selection to your needs.
Find out what we can do for you. Contact us today to book your free consultation!

Physiotherapy in Geneva, St Charles, Batavia IL | (630) 715-1183