Stress takes its toll on the body, wreaking havoc on your physical, emotional, and oftentimes, financial state. In addition to causing headaches, backaches, and insomnia, stress often leads to anger, depression, and feelings of helplessness.
You may not be able to control every detail of your life but there are things you can do to reduce the amount of stress you're subjected to. It's also helpful to know how to deal with stress effectively so it doesn't become detrimental to your health, happiness, and well-being.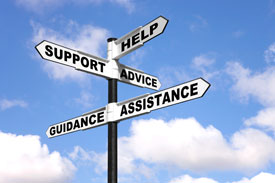 Here are five ways to reduce stress immediately:
Know that some things are out of your control but how you handle stressful situations is your choice. Give yourself time to breathe after receiving bad news or being part of a stressful situation. Time has a way of making things better. If you need to clear your head before coming to conclusions, go for a brisk walk. Focus on each step you take rather than the problem at hand. If you're still not certain what to do, sleep on it. You'll have a fresh perspective once you've distanced yourself from the initial emotional reaction you feel being thrust in a stressful situation.
Get adequate amounts of rest. Stress causes your nervous system to be on high alert. It causes racing thoughts that makes sleep difficult. Do what you can to make your bedroom a place that promotes rest and relaxation. Keep it cool and dark. Play soft music if you'd like and put away electronic devices so you're not tempted to stay up late when your body is tired.
Add light exercise to your daily routine. Walking is something you can do anywhere without any special equipment. A brisk walk around the block gets your heart pumping and helps you see things from a different point of view. Make it a point to walk as much as you possibly can. Set a goal for yourself and use a pedometer to count the number of steps you take each day.

Make time for the people you love and the activities you love to do. Being around negative people all day is stressful. Do the opposite by immersing yourself in activities you love with the people that matter most to you. Having something to do outside of work and school helps you focus on the positive and forget (momentarily) about the negative. It allows you to express yourself and feel support from people who truly care about you, your physical well-being, and mental health.

Seek chiropractic services to relax you and release the tension from your muscles. Sometimes you need some outside help to ease stress. That's where chiropractic services come into play. Your chiropractor knows ways to relieve the stress in your body. They're happy to discuss options with you that meet your unique needs.
Follow the tips listed above and contact Goyke Health Center for additional information about the treatments we offer for stress-related issues. Knowing how to deal with life's difficulties in a positive way is a skill worth learning. Contact us today to schedule an appointment for stress relieving chiropractic services.