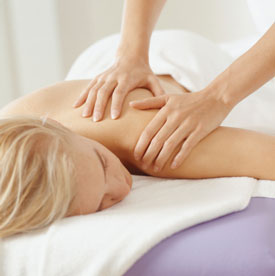 Massage therapy as a chiropractic service is in high demand. That's because it offers a wide range of therapeutic benefits that ease the mind and heal the body. If you haven't yet tried massage therapy as part of your wellness plan, now's the time to speak to your chiropractor about it.
Five benefits of massage therapy as a chiropractic service include:
Stress Relief. Every day occurrences as well as major life events often cause stress. Massage helps lower heart rate and decrease insulin levels making it the perfect way to combat whatever stressors life throws at you. Massage helps relax tight muscles and promotes good health and mental well-being.
Lower Blood Pressure. Get the blood flowing in a natural and healthy way with gentle massage. This is one of the easiest ways to keep your blood pressure right where it needs to be. One session is all it takes to see noted physical and mental results.
Better Circulation. Strategic pressure helps blood flow optimally which leads to better circulation. Blood oxygenation and blood delivery increases with our chiropractic service. You'll be able to get around better even with an injury or medical condition because of massage.
Improved Flexibility and Range of Motion. Massage therapy promotes joint lubrication and fluidity. It decreases the risk of injury. You're less likely to reinjure yourself when exercising when you add massage to your list of chosen therapies.
Faster Recovery Times After Injury. Regular massage paired with rehabilitation services eases stress and promotes healing. It allows the body to respond to the treatment because it's relaxed not tense. You'll be back to enjoying life in a matter of no time!
Schedule a soothing massage session with Goyke Health Center today. Relief is just a phone call away. The number to reach us at is (630) 659-1030. Set up a free exam and consultation with Dr. Goyke today.