Meet Dr. Kevin Goyke
Changing Paths Post-injury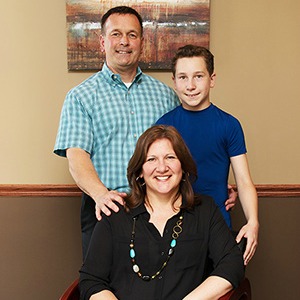 A systems analyst with a computer science degree, Dr. Goyke hurt himself preparing for a bodybuilding competition. He went to medical doctors without seeing any results for his back pain. Not getting better and unable to work out, he sought the help of a chiropractor. "I was so impressed with it that I changed my whole line of work!"
Gaining a Well-rounded Palmer Education
Dr. Goyke attended Hayward State University in California while pursuing his Bachelor of Science in Computer Science and also completed his Pre-Med there. He then attended Palmer College of Chiropractic West for his Doctorate.
Chiropractic works with the body to optimize its function. It got me out of pain and tied in with my background of working out and being in good health."
He was employed at Lockheed Missiles and Space during his school years, demonstrating a great work and school ethic. Before his background check for top secret clearance, he worked as a computer operator, then was promoted to systems analyst. Always focused, school helped Dr. Goyke become even more goal-oriented. He graduated cum laude in 1994.
Traveling Home to Illinois
After completing his education, Dr. Goyke decided to return to his home state. He started working at a clinic in Wheaton, before opening up an office in Naperville. There, he treated thousands of patients seeking help with varied health conditions. In 2015, he moved his location to Geneva to serve our community and spend more time at home with his family who resides here.
EXPLORE OUR SERVICES »
Enjoying the Geneva Community
Dr. Goyke married Susan in 2001. She has two children, Kaley and Cody. Their son Ian was born in 2004. He stays busy with his son's sports activities and sees many of his son's friends at the practice, helping them with sports and overuse injuries. "I love helping the people of our community that I meet in church or at sporting events." He coaches in the Geneva Baseball Association and he helps out when he can with Ian's other sporting activities.
Working out is still a big part of Dr. Goyke's life, and he trains 3-4 times per week for fun and to stay in shape.
Schedule An Appointment
Find out how you can benefit from chiropractic care by contacting us to book a free consultation. We look forward to speaking with you!

Dr. Kevin Goyke | (630) 715-1183