Chiropractic Care
The Goyke Health Center focus is on helping you achieve your health goals with our natural, noninvasive care. Dr. Goyke's hands-on approach to healing involves using gentle techniques and a special table to help make adjustments easy on you.
Providing Pain Relief With a Gentle Touch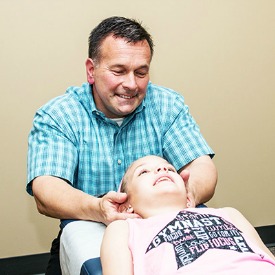 The techniques we use in your care include
Additionally, Dr. Goyke may recommend adding a form of physiotherapy or massage therapy to your care plan. If at-home exercises or stretches can benefit you, we'll go through them so that you know how to perform them properly. As a former bodybuilder, Dr. Goyke works out regularly and can give you tips on how to improve your athletic performance.
A Comfortable Experience
You may not have received an adjustment before and understandably may have questions about it. We can start with muscle work and physiotherapy on your first visits to help you feel comfortable. When we move to adjustments, you may hear a noise. Rather than being a cause for concern, it's just gas escaping from the joint like when you crack a knuckle. We'll talk you through it before doing the adjustment, making sure we gain your trust and put you at ease.
Start feeling better by booking your time today. Free parking and Saturday appointments are available for your convenience!

Goyke Health Center | (630) 715-1183