About Goyke Health Center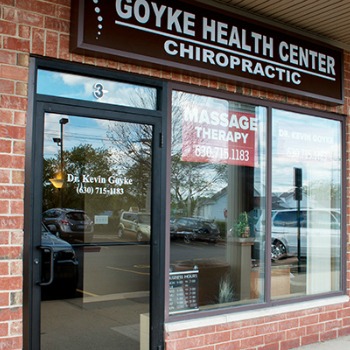 In practice since 1994, Dr. Kevin Goyke had an office in Naperville for nearly two decades before relocating Goyke Health Center to Geneva. Our brand-new, beautifully designed facility is here to support the health of the people in our community with chiropractic care, massage therapy, and physiotherapy. All members of your family can benefit from our safe and natural health care, including kids who need help recovering from their active sports participation.
Feeling Great and Functioning Fully
Our guiding principle is to relieve any discomfort you have, making your life pain-free and helping you reach your full potential. Disc and spinal joint dysfunction can hold you back from living your life. With chiropractic care, Dr. Goyke can help you feel better, improve your range of motion and alleviate any symptoms you might be experiencing.
Giving You an Effective Healing Experience
For Dr. Goyke, being a doctor means caring for the health and welfare for all. He takes this responsibility seriously, going to great lengths to make sure our patients are satisfied with their experience at our office. The Goyke Health Center goal is to provide the highest possible quality of health care and customer service, helping you achieve the best outcomes with a gentle approach to chiropractic care.
We keep your convenience in mind with late hours and Saturday appointments. Contact us today to schedule your visit!
MEET DR. KEVIN GOYKE »

About Goyke Health Center | (630) 715-1183